Giving e-tailers choice on how to display SanDisk's product data
SanDisk specialises in flash memory products (memory cards and readers, USB flash drives, and solid-state drives). Distributing consistent, informative and engaging product information across e-tailers has been challenging for them.
I worked with a small team to look at how SanDisk could distribute their data to e-tailers across the globe in an engaging and informative way.
The challenge
In a world where we have a plethora of choice, giving the customer helpful choice-making content is key to a sale. SanDisk has a lot of technical content, but as a customer it can be overwhelming, especially if they're not tech-savvy.
Our high level goals were to:
Create content that was engaging and easy to understand to a consumer.
Create dynamic content to minimise inconsistent product data where necessary.
Allow an e-tailer to choose content they want to display on their website.
My role
I was involved in creating the requirements, design documentation and reusable design templates for the project. I worked with my Head of Design, an Account Manager and an Artworker during the process. When the templates and documentation were ready, I then created new product layouts for all of SanDisk's products.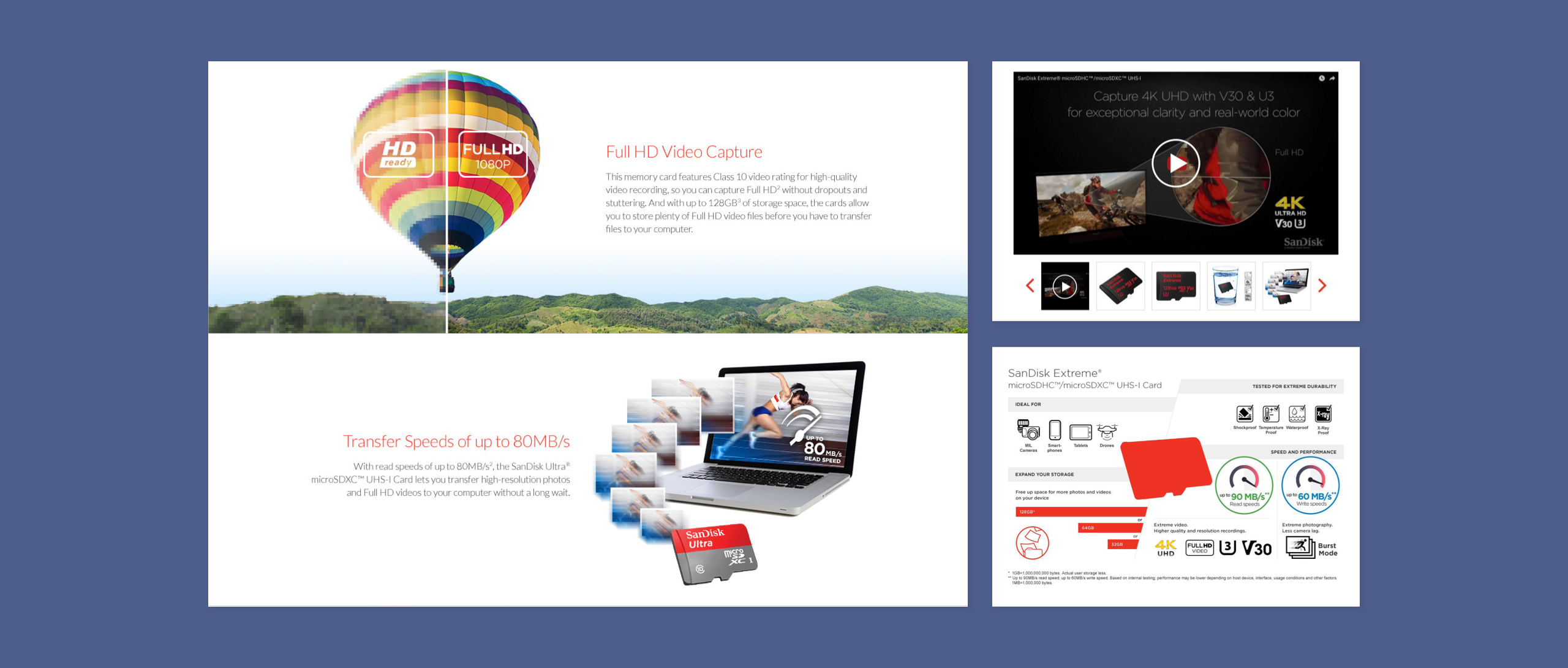 Discover
Understanding the technology and limitations
We began the project by looking at:
SanDisk's product information and how to make this consumer-facing.
How SanDisk's content was distributed by SanDisk's content distributors.
How content was displayed by e-tailers.
We worked with SanDisk's digital content distributors to understand the limitations of their service and if they were open to improvements. A Functional Requirement Document (FRD) was created and distributed between SanDisk and their content distributors to align expectations and check feasibility.
DEVELOP
Simplifying consumer content
Several design problems needed to be considered during development:
How could we create content that could be easily translated into 20+ languages within a limited timeframe and budget?
How could we deliver flexible and dynamic content to e-tailers to distribute?
How could we demystify technical jargon whilst creating content that would engage customers?
As the content needed to be translated into several languages, we limited the amount of visible text on image assets to increase the speed of distribution and used live text where possible. This made the product information more accessible and SEO-friendly. We explained any iconography visible on SanDisk's products in plain english to earn customer trust and demystified any technical jargon.
To create dynamic content, several content modules were designed. This allowed designers and e-tailers to pick and choose how to display content for any particular product. We also created generic modules that could be used across designs (like comparison tables) and product feature modules that were dynamically populated with relevant data.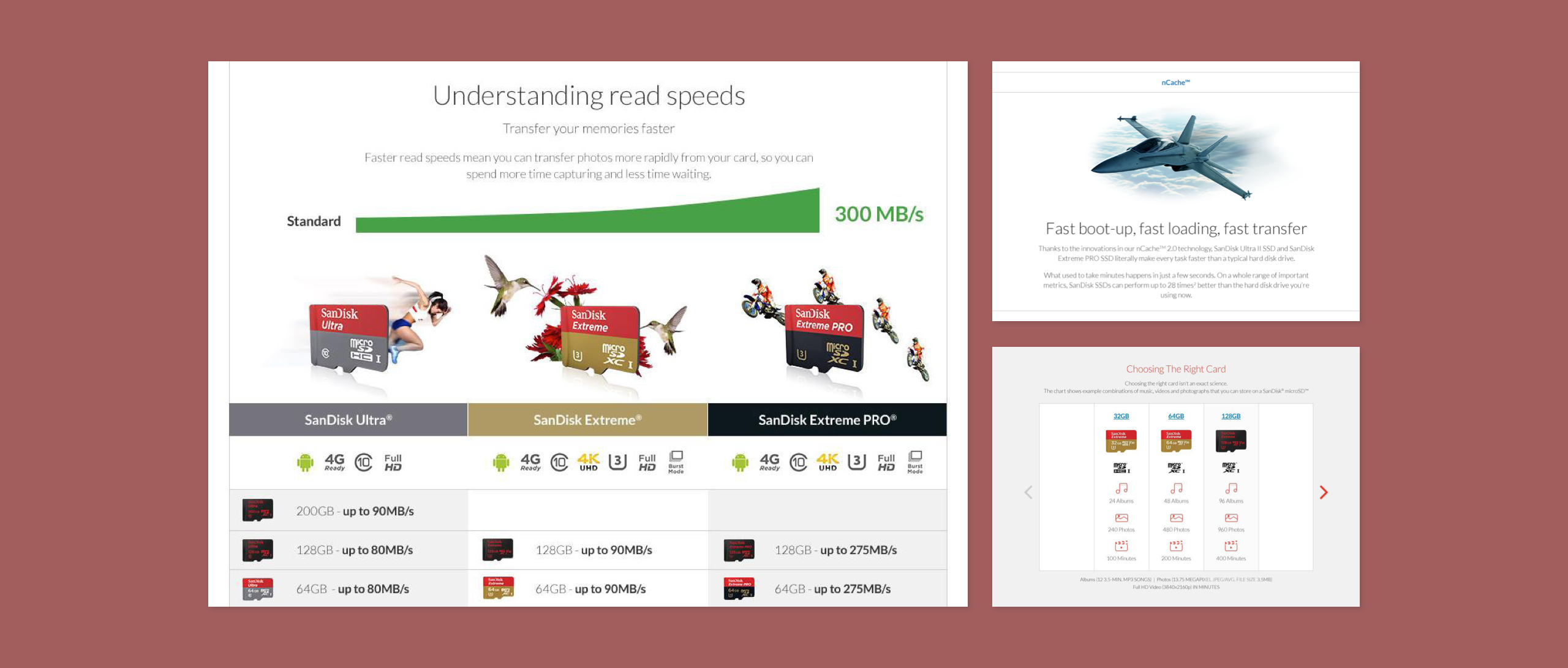 DELIVER
Distributing modules for e-tailers
We created modules to allow digital content distributors and e-tailers the flexibility to choose how they wanted to display SanDisk content. Guidelines and supporting documentation was written for designers, SanDisk's developers and the digital content distributors which sped up production. In the backend, product data that could be displayed as a table was only input once which allowed SanDisk to rethink how they distributed product information internally and it helped them reduce inconsistent product data.