Making a fashion statement with The X Factor
M&S is a British retailer with both in-store and online digital experiences. They focus on their own label businesses, including Food, Clothing & Home. I worked with M&S while they sponsored The X Factor (a British television music competition).
The challenge
The challenge was to design and build magazine-style website pages that would promote M&S outfits and accessories on a weekly basis. In return, this would help boost sales until The X Factor's finale. I had a weekly timeframe, limited photographic assets and I would have to make supporting theme related assets from scratch.
Our high level goals were to:
Increase clothing sales.
Promote the M&S brand.
Engage customers.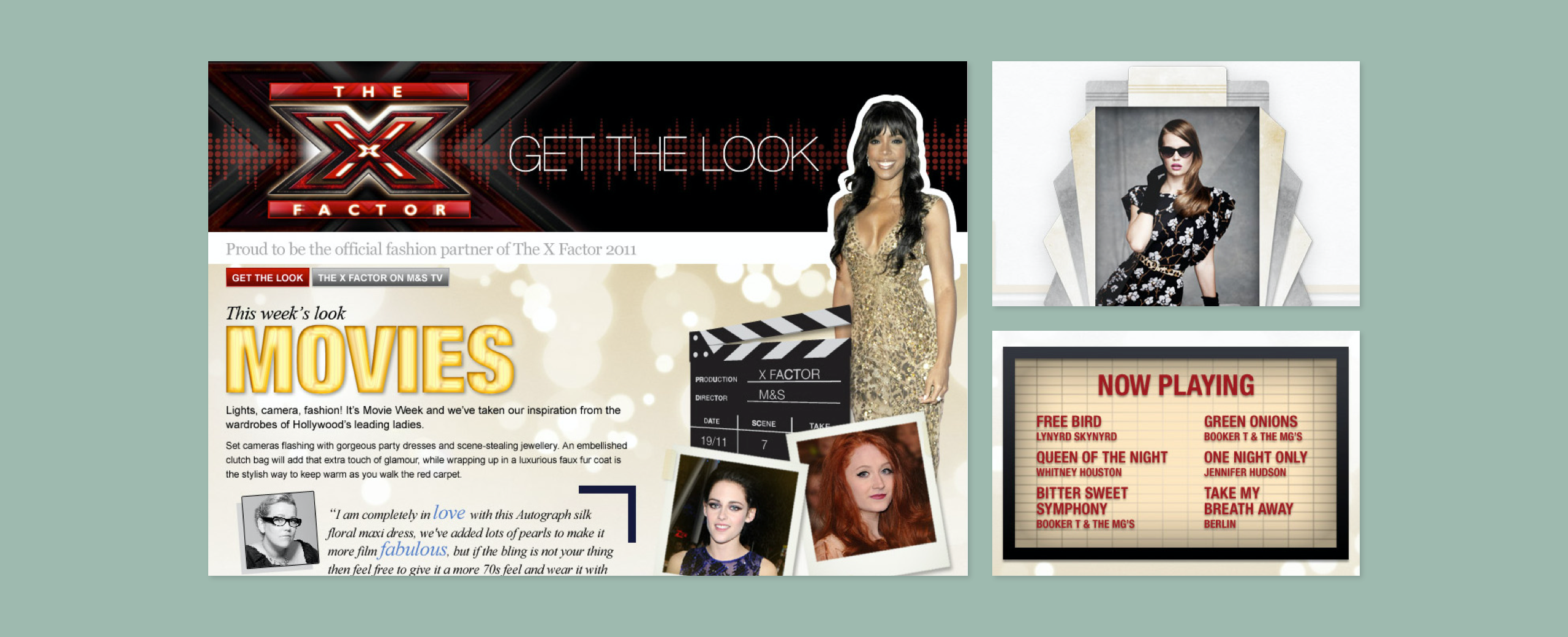 My role
Each week I would design and code a magazine-style layout that would coincide with the weekly theme from The X Factor. Customers would be able to see outfits and accessories that would lead to product pages for purchase. I worked with M&S' Creative Director, Marketing Team and their In-House Development Team.
DISCOVER
Scope and constraints
Each week the M&S Marketing Team would recommend a line-up of outfits with accessories that reflected the weekly X Factor theme. The X Factor themes were not known in advance so there was minimal time for any pre-work. Any research and design work would need to be done during the same week to meet the weekly deadline.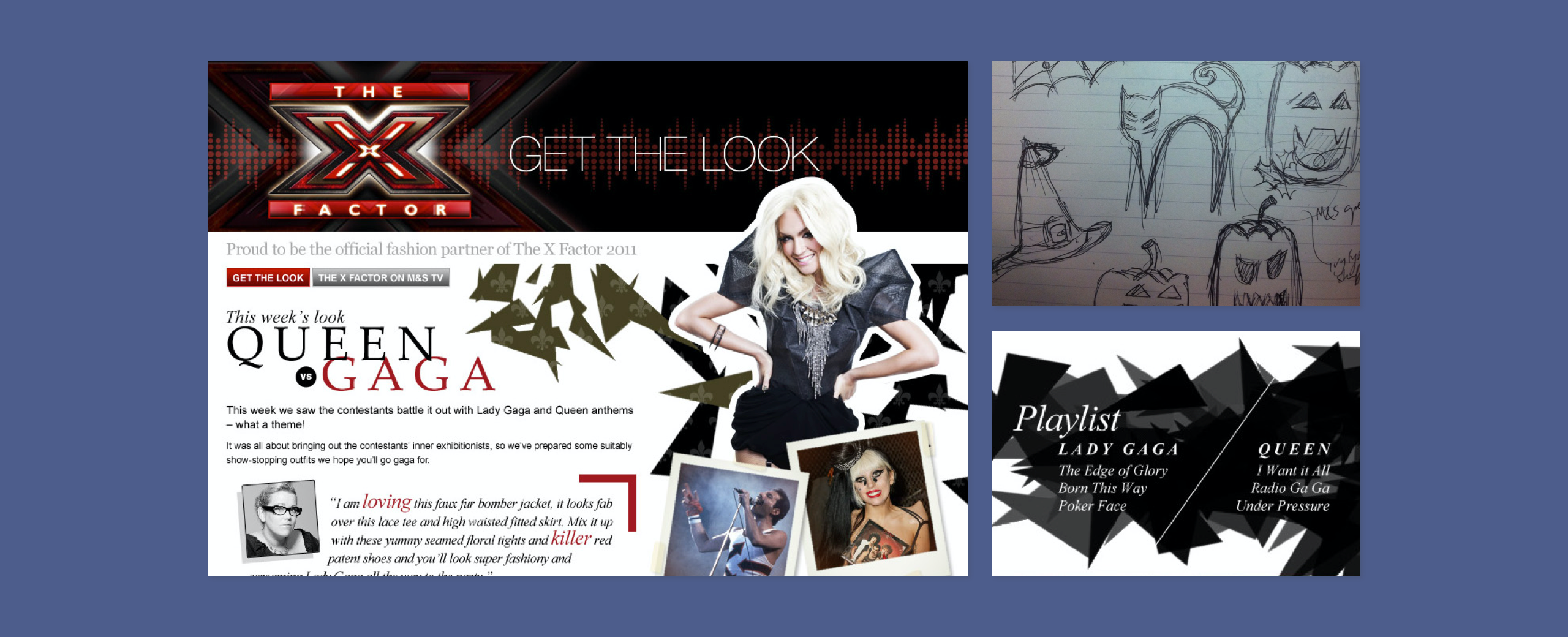 Develop
One week to design and build
I had one-week to design and code The X Factor layouts with limited assets. Each week I was given photographs of some of The X Factor contestants and product shots from the Marketing Team. Any design elements were bespoke and made during the same week. Sometimes online products would become out-of-stock so there were regular last minute changes to design layouts.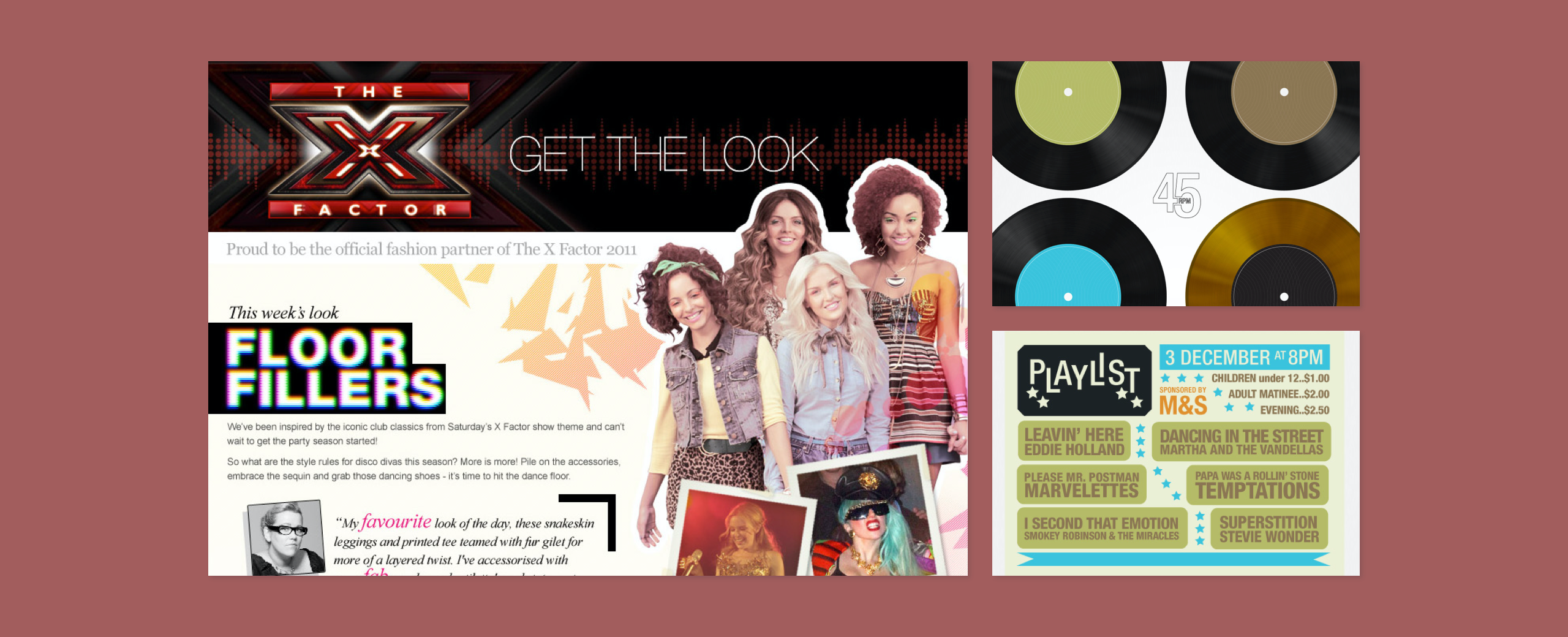 Deliver
We need more stock!
We underestimated the popularity of the products that were being promoted, which was great for M&S' revenue but bad for customers. In future we would need more products available in the warehouse to avoid customer disappointment in future promotions.