Helping people reduce their alcohol consumption
Alcohol abuse is a serious, ongoing public-health problem. Professor Miles Cox, a world expert in the motivational aspects of alcohol use and other addictive behaviours developed a way of 'training' our brains to pay less attention to alcohol related stimuli that can lead to reduced consumption. This led to the development of Chimp Shop. A mobile game that psychologically trains your brain to reduce alcohol consumption.
The challenge
The concept of a chimp running through a shopping aisle had already been decided and a working prototype had been developed. However, there were still several challenges that would need to be investigated throughout this project.
How to make the game stand out amongst popular games in the app stores.
How to make the game addictive to help the training process.
Strict budget and timing requirements.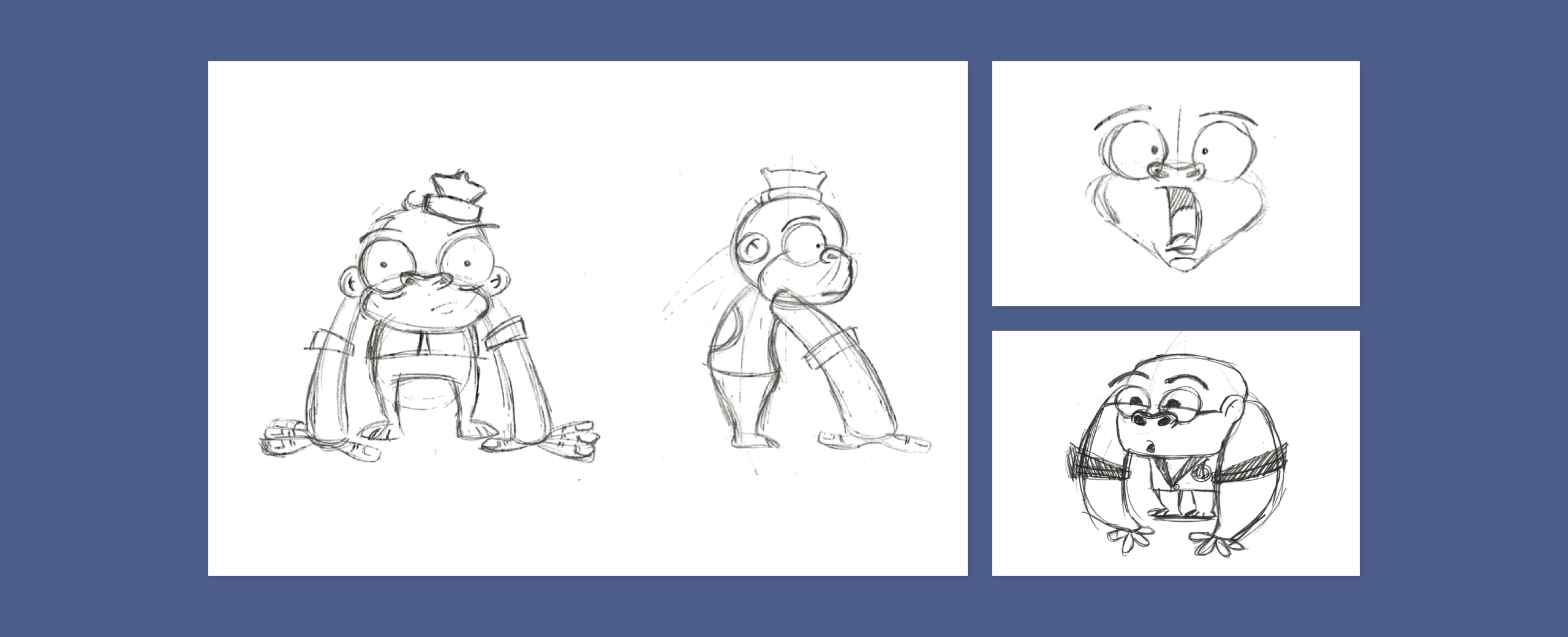 My role
The concept of a chaotic monkey wreaking havoc in a supermarket had already been decided by the client. We were asked to bring their concept to life by creating a brand and building the experience. I had been tasked to create the look and feel, the marketing video for ChimpShop that would feature on YouTube and a responsive website. The game production was outsourced to a development team.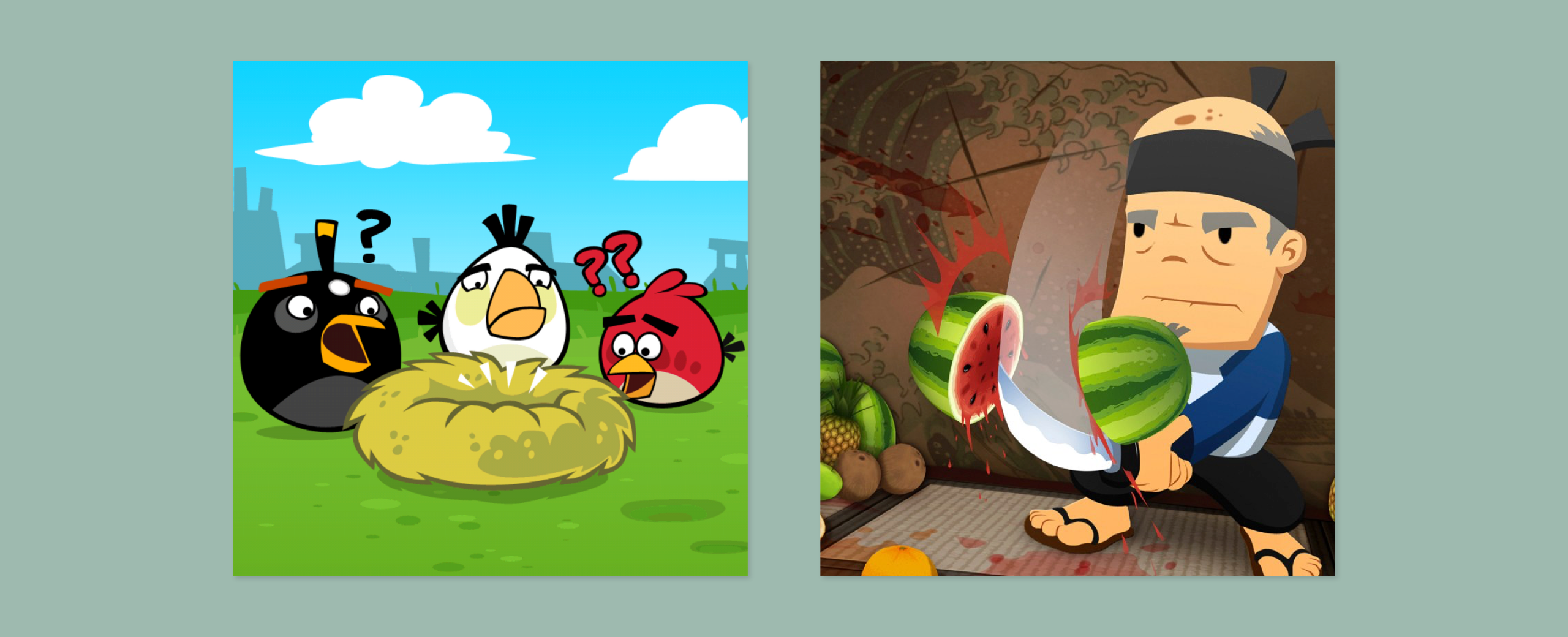 Discover
What kind of games do people want to play?
At the time of development, games like Angry Birds and Fruit Ninja were at the top of the charts on both iPhone and Android. These games were addictive, free-to-play, colourful, 2D and cartoony. They were also fun and entertaining with quirky music and sound effects. The gameplay was also simple with some slight challenges. There was also a ranking system, which allowed players to compare their scores against others.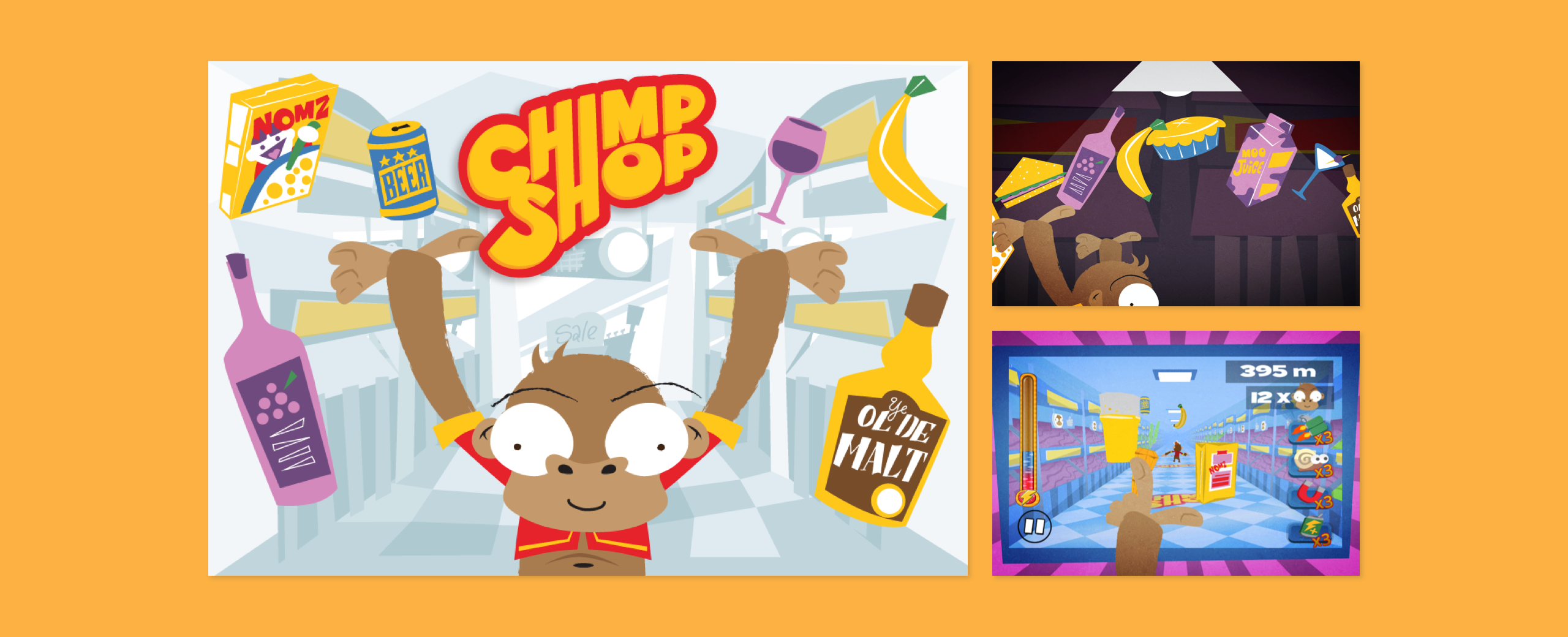 Develop
Branding Chimp Shop in a fun and engaging way
We had a small budget and a tight deadline. Our developers were also in a different timezone, so we wanted to make sure they had the brand assets so that the feel of the game was right. Working with my Creative Director I created 2D illustrative assets to set the tone of the game, chose the colour scheme and chose typography that was friendly and bold, much like the styles for Angry Birds and Fruit Ninja.
After branding ChimpShop I created a storyboard with ready-to-use assets so that Daniel Burke, our animator, could start creating our marketing video. All assets were created as vectors so that they could be used at any size. These same assets were then used as part of the website design so that all touchpoints had a similar look-and-feel.
Deliver
Monkeying around
When we launched the game, the client had decided that promotional codes would be given at doctor surgeries and people would have to pay to play the game on the Apple and Android store. Unfortunately the game didn't take off as expected as the payment method or seeing a doctor to claim a code was a barrier to entry.
In future I would recommend to build a demo version or that the game be freely available to increase uptake. I would also recommend further research with current users or potential users to understand the customer-base. Customer reviews on the website and potentially the marketing video might also have a positive impact in user uptake.